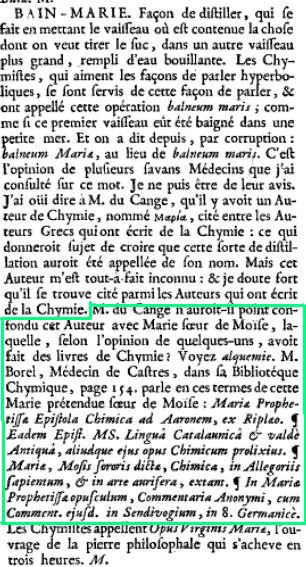 I have retyped the most interesting section of the text, since many search engines will have trouble reading the image above:
M. de Cange n'auroit-il point confondu cet Auteur avec Marie soeur de Moïse, laquelle, selon l'opinion de quelques-uns, avoit fait des livres de Chymie? Voyez alquemie M. Borel, Médecin de Castres, dans sa Bibliothèque Chimique, page 154, parle en ces termes de cette Marie prétendue soeur de Moïse:

Maria Prophetissa Epistola Chimica ad Aaronem, ex Riplao.
Eadem Epist. MS. Lingua Catalaunica & valde Antiqua, aliudque ejus opus Chimicum prolixius.
Maria, Mosis sororis dicte, Chimica, in Allegoriis sapientum, & in arte aurifera, extant.
In Maria Prophetissa opusculum, commentaria Anonymi, cum comment. ejusd. in Sendigovium, in 8.